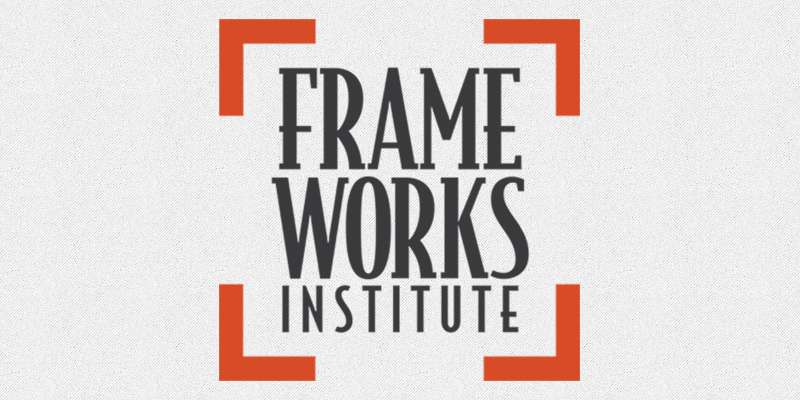 Past Webinar: Frameworks
Broadcast: Tuesday, August 11th – 12:00pm – 1:30pm
"The lens through which we commonly view aging"
This webinar explored key findings from a series of FrameWorks studies that were conducted in partnership with a collaboration of leading aging organizations and funders. The studies were designed to explore how the public views older adults in this country and how media and expert discourse help shape these understandings. The research compares what experts say about older adults to what the public perceives to be true. This process has found profound differences, with deep implications for the way we need to communicate about aging services and policies. This webinar  discusses key findings from this research and concluded with a discussion of implications and next steps.
Dear Colleagues in Reframing Aging,
Thank you for joining us in mid-August to think about the implications of our new research for the work you do!
The 150 participants gave ample testimony to the interest in the field in rethinking how we engage people in aging issues.
You asked really important questions and, unfortunately, there wasn't enough time to get to all of them. So we at FrameWorks want to offer some ways for you to join us in this exploration of reframing aging by accessing some of the explanatory products we've created to help people ratchet up their framing skills.
Here are five things you can do now to bring better frames into your work:
Follow our research on aging – we will posting new research any day now, so catching up with what's been posted is a good use of late August time: http://www.frameworksinstitute.org/aging.html
Consider ways to "widen the lens" – one of FrameWorks' emerging recommendations is to focus more on systems that affect aging and less on individual outcomes. How exactly do you do that? Learn more in this online course, part of FrameWorks Academy – this one is free for a limited time, so spend a few hours with us soon and try using these techniques in your work: http://frameworksacademy.org.
Get up to speed on framing – If you like your free course, sign up for Framing Fundamentals which will introduce you to frame elements like Values and Metaphors and how they change people's perceptions of social issues, along with many examples from FrameWorks' portfolio on health, education, children's issues, etc.
Snack on a framing brief over lunch – Questions like those raised on the call have been addressed over time in many short briefs that make for good brown bag discussions: http://www.frameworksinstitute.org/framing-files.html. Why doesn't FrameWorks recommend profiling individuals to drive home their aging challenges? Try this provocative piece on the frame effects of that strategy: http://www.frameworksinstitute.org/assets/files/eZines/vivid_examples_ezine.pdf
Sign up for future alerts from FrameWorks – we'll let you know when we have new research on aging as well as housing, health, immigration, income inequality, etc. These are all ongoing investigations we have underway that may intersect with your interests. Join our community of framers!
Susan Nall Bales, President
Nat Kendall-Taylor, Senior Vice President
FrameWorks Institute
www.frameworksinstitute.org
SUSAN NALL BALES
Founder and president of the FrameWorks Institute. For more than 15 years, she has led an interdisciplinary team of social scientists and communications practitioners in the development and application of Strategic Frame Analysis™–an innovative method of conducting and applying framing research. In addition to dozens of reports and commentaries that inform the FrameWorks' work on a wide range of social issues, she has published widely on framing, science translation and communications for social good, in both peer-reviewed and popular journals, and has lectured at institutions from Brandeis and the Rural Sociological Society to the White House and Yale University. She is a senior fellow at the Center on the Developing Child at Harvard University.
NAT KENDALL-TAYLOR
Senior Vice President at the Institute. Nat leads a multi-disciplinary team of social scientists in studying public understanding and exploring ways to reframe such pressing issues as criminal justice reform, immigration, early childhood development, addiction, environmental health, education, public health and climate change. His past research has focused on child and family health and in understanding the social and cultural factors that create health disparities and affect decision-making. As a medical anthropologist, Nat has conducted fieldwork on the coast of Kenya studying pediatric epilepsy and the impacts of chronic illness on family well-being. He has also applied social science methods in research on child marriage in Azerbaijan and higher education in Kazakhstan and has conducted ethnographic research on theories of motivation in "extreme" athletes. He is a Visiting Professor at the Child Studies Center at Yale University.