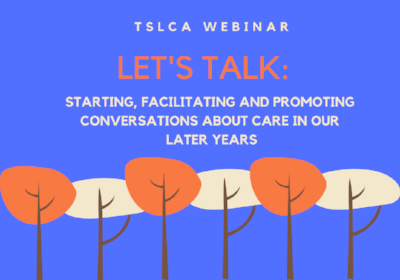 Past Webinar: Let's Talk – Starting, Facilitating and Promoting Conversations about Care in our Later Years
Wednesday, August 29 from 12:00 p.m. to 1:30 p.m.
Among the most important conversations we will have in our lives, the conversation about our choices and interests related to our care and needs in our later years ranks high. While we know they are vitally important, these conversations are commonly avoided because they are overwhelming and often perceived as difficult. And with whom do we have these conversations? Our family, friends, medical providers, faith leaders? When do we have them? And who initiates them?
Fortunately, there are many people, communities and organizations across our Tri-State region making these conversations available to all of us, and through our upcoming webinar, they will share their innovative strategies to help facilitate these conversations with folks in our communities. Whether you want to learn how to facilitate this conversation among your friends and family, within your age-friendly community or your organization, or across systems in your region, this webinar will offer examples of ways to get the conversation started, and build initiatives and programs to help facilitate that conversation across your community or organization. We hope you will join us!
Speakers:
Janet Lewis, Executive Director
Becky Pease, Choices that Matter Coordinator
Healthy Penninsula
Blue Hill, ME
Jan Lord and Jody Schubert
United Valley Interfaith Project Useful Tools Course
The Town of Cornish Aging in Place – Cornish Conversation Initiative
Cornish, NH
Cynthia Stadler APRN, MSN, CHPN
BAYADA Hospice – Community Liaison
Norwich, VT