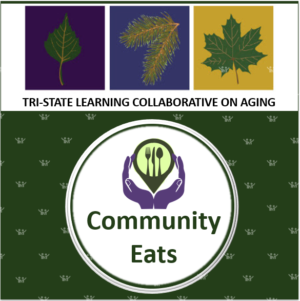 Past Webinar: Community Eats: Lifelong Approaches to Healthy Eating (with a side of fun!)
Tuesday, April 23rd, from 12:00 p.m. to 1:30 p.m.
Join us on Tuesday, April 23rd from 12:00-1:30 to hear some of the innovative ways that communities and organizations are making it easier for older residents to enjoy healthy food—with a side of fun.
Access to healthy food is one of the keys to enjoying the best possible health as we age. The things we eat can have a big impact on our overall wellness, and a deficiency in vital nutrients can make us more susceptible to certain diseases and conditions. The cost of cauliflower is about $5/head in our area. Other healthy foods are equally un-affordable. For those on a limited budget, there may be no choice but to eat frozen meals and to choose starch over veggies or fruit. Jill Lord, Director of Community Health at Mt Ascutney Hospital will join us to share some innovative ideas from the Vermont Foodbank. Martha Tecca, President, CommunityCare of Lyme, and Mimi Weinstein, Dayle Mason, and Lorry Kenton who lead the Senior Lunches, VegiCare, and SouperCare in Lyme,  will talk about how these programs, all offered by Lyme Congregational Church Health Ministry are addressing the need of older residents for healthy food.
Eating together could provide benefits for those of all ages, but for seniors, it can be even more important—especially for those who live alone.  A study by Home Instead Senior Care showed that 20% of older people feel their loneliest when they eat alone. While the taste and nutritional value of the food itself is important, older people in that study reported that sharing conversation with friends and neighbors during the meal is equally important. Harpswell Aging at Home (founded by our very own Jess Maurer!) is promoting healthy eating and social connections. Surrey Hardcastle and Peg Orlando, from Harpswell Aging at Home, will join us to talk about the "Lunch with Friends" and "Meals in a Pinch" programs.
Presenters:
Janet Hunt, Executive Director, Vermont Association of Area Agencies on Aging
Jill Lord, Director of Community Health, Mt Ascutney Hospital
Mimi Weinstein, Dayle Mason, and Lorry Kenton, Senior Lunches, VegiCare, and SouperCare, Lyme Congregational Church Health Ministry
Surrey Hardcastle & Peg Orlando, Harpswell Aging at Home