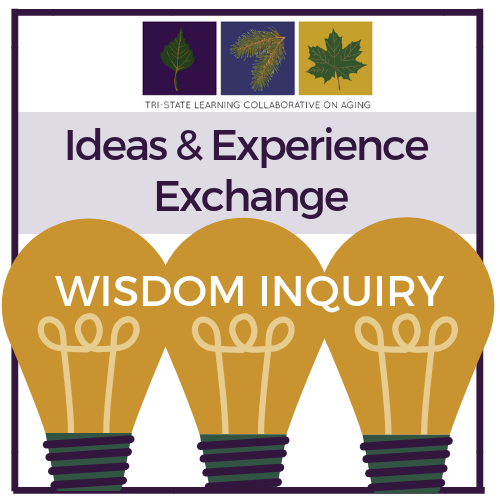 Past Webinar: Ideas & Experience Exchange: Wisdom Inquiry – Engaging Libraries
Tuesday, April 9th, from 12:00 p.m. to 1:00 p.m.
Join us on April 9th from 12:00-1:00 for this month's "Ideas & Experience Exchange: Wisdom Inquiry"! This month we will focus on engaging libraries. We are thrilled to have wonderful hosts joining us to explore our challenges and successes as they relate to engaging libraries in our livelong community work.
Research shows that libraries are a trusted source of information for people of all ages. During the recent NH State Plan on Aging listening sessions, NH residents said that they want to be able to find more information in libraries. In our technolicious age, will libraries return to being the town center instead of the food courts?? Join us for a conversation about partnering with your library to make sure that your age friendly organization or lifelong community is part of the new town square.
Barbara Asen, Director Family Caregiver Support, Central Vermont Council on Aging, will share some ideas from her partnership with the ABLE Library of the Vermont Department of Libraries to offer the monthly Memorable Times Café, a relaxed social time for people living mild to moderate memory loss and their care partners. The by-line on their poster reads, "Stories * Memories * Music * Community".
Vincent Livoti, Consultant for Special Populations and Director, ABLE Library, Vermont Department of Libraries, will talk about ways that the ABLE library can support community work.
George Cleveland, Executive Director, Gibson Center for Senior Services and active on the Mount Washington Valley Regional approach to age friendly community development, will talk about the partnerships that the Gibson Center and the age-friendly initiative are forming with local libraries.
Join us to share ideas that have worked in your community to increase community engagement and to glean ideas from other lifelong community leaders!  More info to come — stay tuned!
Presenters
Barbara Asen, Director, Family Caregiver Support, Central Vermont Council on Aging
Vincent Livoti, Consultant for Special Populations & Director, ABLE Library, Vermont Department of Libraries
George Cleveland, Executive Director, Gibson Center for Senior Services 
Anne Schroth, Program Coordinator, Healthy Peninsula