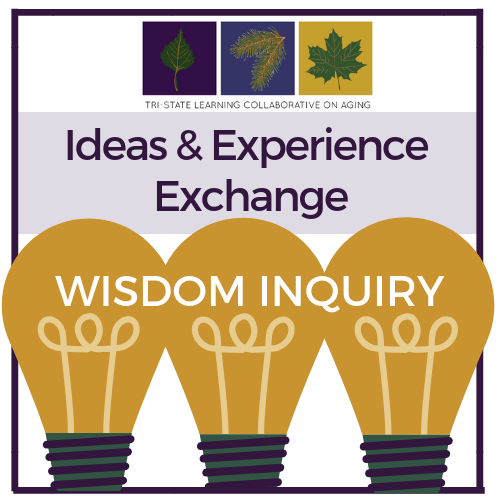 Past Webinar: Idea and Experience Exchange: Wisdom Inquiry – Engaging Communities Through Social and Print Media
Tuesday, May 14th, from 12:00 p.m. to 1:00 p.m.
Join us on Tuesday, May 14th from 12:00-1:00 for this month's "Ideas & Experience Exchange: Wisdom Inquiry"! This month we will focus on engaging communities through social and print media. We are thrilled to have hosts Denise Plante, coordinator of Age-Friendly Jackman, Nancy Davis, President of Bethel Area Age-Friendly Community Initiative, and Vivian Winterhoff and Mary Secor, from Organized Acts of Kindness for Seniors in NH. They will host the conversation about successes and challenges of using social and print media to engage the community.
Join us to share ideas that have worked in your community to increase community engagement and to glean ideas from other lifelong community leaders!
Wisdom Inquiry Hosts:
Denise Plante, Coordinator, Age-Friendly Jackman, ME
Nancy Davis, President, Bethel Area Age-Friendly Community Initiative
Vivian Winterhoff, Board Member, Organized Acts of Kindness for Seniors