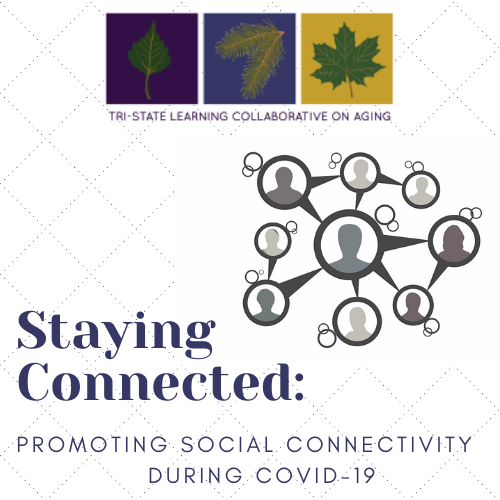 Staying Connected: Promoting Social Connectivity During COVID-19
Tuesday, November 17th, 2020, from 12:00 p.m. to 1:30 p.m.
It is no secret that the COVID-19 pandemic has severely escalated the risk of loneliness and social isolation for many people. Necessary protective measures such as quarantine and physical distancing help keep everyone safe and prevent the spread of the virus, however, in northern New England particularly, our geography plays a role in social isolation as well. Many small towns with limited services and long rural roads with scattered homes make connecting with others more difficult as we age. As we are approaching the winter months and holiday season, many communities and organizations continue to develop ways to maintain connection with people with diverse needs in the community. From hosting weekly phone bingo, music and art programs over Zoom, to handwritten pen-pal programs, many people are finding unique ways to stay safely connected across our region and it has been inspiring to see! Join us on November 17th form 12:00 to 1:30 pm to hear about some of these great programs, be inspired, ask questions, and share ways your own community is working together to stay connected.
Presenters:
Renee Pepin, Research Scientist, Community and Family Medicine, Dartmouth Centers for Health and Aging 
Amy Poueymirou, Director of Programs, The Foundation for Art & Healing
Luke Rackers, Community Engaged Tech Specialist, Central Vermont Council on Aging 
Anna Guest, Agewell Programs Manager, Southern Maine Agency on Aging