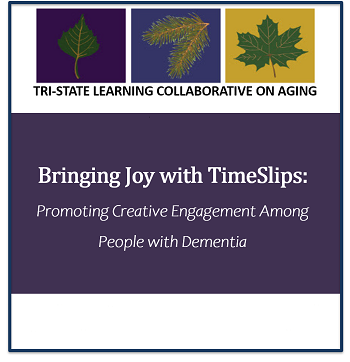 Bringing Joy with TimeSlips: Promoting Creative Engagement Among People with Dementia
Tuesday, January 26th, 2021, from 12:00 p.m. to 1:30 p.m.
We invite you to join us on January 26th to hear from communities across northern New England who have successfully implemented the international evidence-based program, TimeSlips. Join us to learn about how the TimeSlips program can connect and promote communication through creativity and creative engagement in care settings with people with dementia, and how you can successfully launch a program within your own community.
Presenters:
Cindy Marshall, Mary Zina & Crystal Andino of The Huntington at Nashua, New Hampshire
More presenters coming soon!