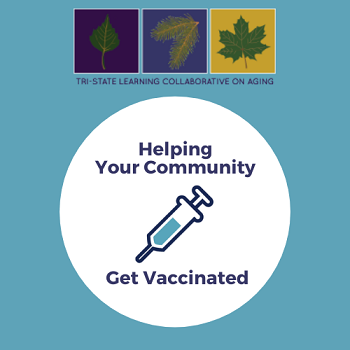 Helping Your Community Get Vaccinated
Tuesday, February 23rd, 2021, from 12:00 p.m. to 1:30 p.m.
Helping Your Community Get Vaccinated (February 23, 2021)
Additional Resources
The pandemic has affected the daily lives of us all for nearly a full year now and while it is far from over, the rapid development of the coronavirus vaccine has given many of us the glimpse of a silver-lining. Like the coronavirus, the idea of disseminating a mass vaccine to millions of people is novel as well. With limited supply and a phased rollout plan, it can often be confusing on who is eligible and how to gain access, especially for rural and underserved populations. Many organizations and communities across northern New England are stepping up to help eligible older adults in their area sign up and get vaccinated. Join us on February 23rd from 12:00 to 1:30pm, to hear how community organizations can support the role out of the vaccine by getting informed and engaged.
Presenters:
Christine Finley, Immunization Program Manager, Vermont Department of Health
Ellen Thompson, RN, Board Chair, Upper Valley Community Nursing Project, New Hampshire
Gayle Hays, RN, Health and Wellness Committee Chair, Harpswell Aging at Home, Maine
Jo Cooper, Executive Director, Friends In Action, Ellsworth, Maine
Are you a part of a community initiative helping others gain access to vaccines by helping with registration, transportation or sharing information? We'd love to have you join us to share more about your efforts!