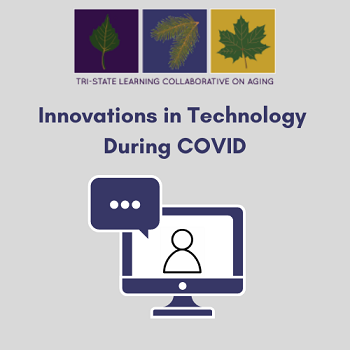 Innovations in Technology During COVID
Tuesday, March 30th, 2021, from 12:00 p.m. to 1:30 p.m.
Innovations in Technology During COVID (March 30, 2021)
Additional Resources
For many of us over the past year, technology has deeply rooted itself into our daily lives by providing opportunities for social connection, access to telemedicine, and engagement with enrichment and wellness activities. According to a survey, more than 60% of Medicare-eligible older adults say they've embraced technology more during the pandemic. Furthermore, that same study found that there was a 300% increase in older adults using telemedicine services during the pandemic. The wide array of online offerings has helped many people stay healthy and connected – and it's likely to stay that way. Join us on Tuesday, March 30th, from 12:00 to 1:30pm to learn more about some of the innovative technology programs and practices organizations are using to support healthy living throughout a pandemic and beyond. Come prepared to join in the conversation and to share your own successes!
Presenters:
– Susan Corbett, Founder & Director, National Digital Equity Center, Maine
– Marguerite Corvini, Project Director, Center on Aging and Community Living, University of New Hampshire
– Lori Fortini, D-H Aging Resource Center Program Leader, Dartmouth Centers for Health & Aging
– Lora Gerard, Northern New England Geriatric Education Center Program Leader, Dartmouth Centers for Health & Aging
– Kristin Overton, Chief Strategy Officer, Healthy Living for ME, Maine
– Luke Rackers, Community Engaged Tech Specialist, Central Vermont Council on Aging, Vermont
– Doug Wilson, Agewell Specialist, Tech Pal Pilot Project Manager, Southern Maine Agency on Aging, Maine
– Kristin Bolton, Assistant Director, Elderly Services, Middlebury, Vermont