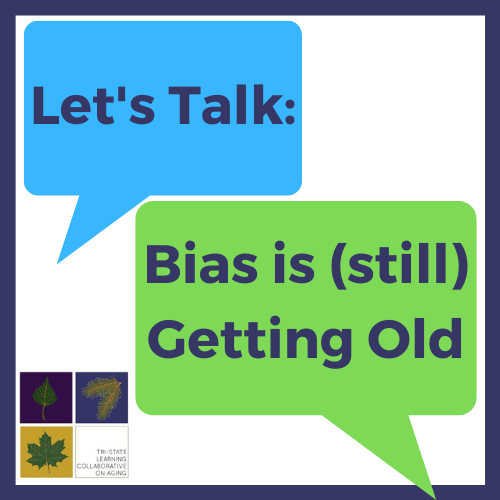 Let's Talk: Bias is (still) Getting Old
Tuesday, May 25th, 2021, from 12:00 p.m. to 1:15 p.m.
In April, over 200 people across northern New England came together to talk about ageism and age related implicit bias during the TSLCA Virtual Summit: Bias is Getting Old – it was an incredibly inspiring day! In fact, 95% of people who attended said the day motivated them to action to become anti-ageist and 98% said the conversations gave them ideas or information to share with their colleagues and/or community. However, our journey to becoming anti-ageists is only beginning!
Join us Tuesday, May 25th from 12:00pm to 1:15pm to continue the conversation. During this event, we'll gather together again to continue our conversations on calling out ageism and share our experiences. By having these conversations at a micro level we can begin to address ageism when we see it and work collectively to change the narrative on aging. We hope you'll join us for these important and powerful conversations!
FAQS about this Event:
To encourage open dialogue and discussion during this event, we will not be recording the conversation/s. You will need to attend live to participate.
The event will be hosted over Zoom and will utilize the Breakout Rooms feature to split the audience into smaller groups during the discussion time. Each group will have a facilitator to lead the discussion.
This event is open to all to attend regardless of if you were able to attend the Bias is Getting Old Summit. This is a stand-alone conversation that was inspired by the robust conversations held during the Summit and we welcome all to attend!
Advanced registration is required to attend this event.
Discussion Questions to consider in advance of the conversation will be sent upon registration.