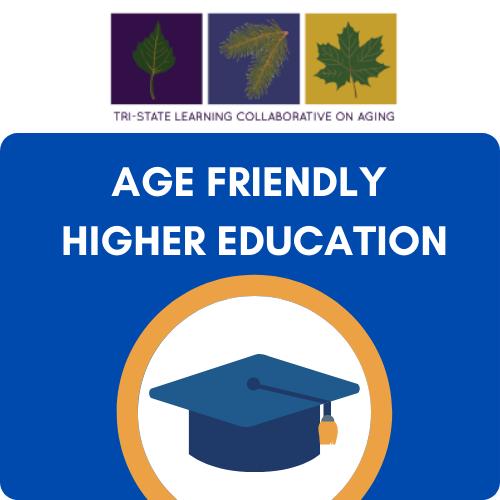 Age Friendly Higher Education
Tuesday, October 26th, 2021, from 10:30 a.m. to 12:00 p.m.
Join us on October 26th to learn what is an Age Friendly University and how universities and colleges throughout Northern New England are becoming more age friendly. Currently, there are 51 colleges and universities worldwide who are a part of the Age-Friendly University (AFU) network, and that number continues to grow. These colleges and universities have endorsed and committed to the 10 Age-Friendly University Principles. However, there is more than one way to be age-friendly! There are many other higher education institutions who have developed and are implementing their own age friendly initiatives and programs. Join us to hear from universities and colleges throughout the region that are doing great work to welcome, engage and collaborate to make their educational systems friendly for all ages.
Presenters:
Marilyn Gugliucci, MA, PhD, Professor & Director Geriatrics Research, Division of Geriatrics, University of New England, College of Osteopathic Medicine
Joann Montepare, PhD, Director, RoseMary B. Fuss Center for Research on Aging and Intergenerational Studies, Professor of Psychology, Lasell University
Janet Nunziata, MS, Associate Director for Education, Center on Aging at The University of Vermont, Larner College of Medicine
Len Kaye, DSW, PhD, Director, UMaine Center on Aging, Professor of Social Work, University of Maine