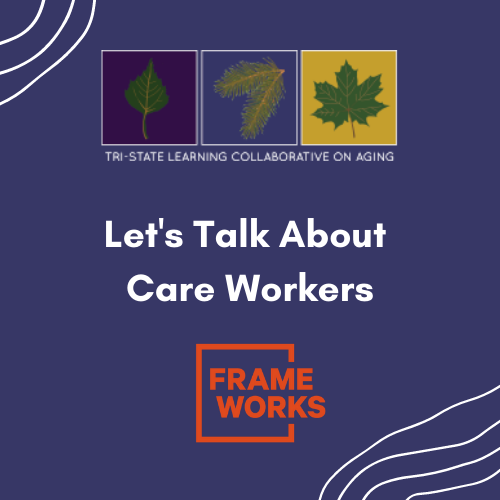 Let's Talk About Care Workers
Thursday, December 16th, 2021, from 12:00 p.m. to 1:30 p.m.
On December 16th from 12:00 PM to 1:30 PM, the Tri-State Learning Collaborative on Aging will be hosting a webinar in collaboration with the FrameWorks Institute to talk about their recently released report, "Public Thinking About Care Work in a Time of Social Upheaval".
We invite you to join us for a special presentation to hear the findings of this report and engage in a conversation about how we can begin to move the needle on building a robust and reliable care workforce that is valued in all ways for the work they do.
Presentation by Nat Kendall-Taylor, PhD, Executive Director, FrameWorks Institute
Moderated audience discussion

State reactor panel:

Representative Jessica Fay, Maine State Legislature (Moderator)
Jess Maurer, Executive Director, Maine Council on Aging
Jennifer Rabalais, Co-Director,  Center on Aging and Community Living (CACL), University of New Hampshire
Angela Smith-Dieng, Director, Adult Services Division, Vermont Department of Disabilities, Aging and Independent Living
We hope you join us for this important conversation!