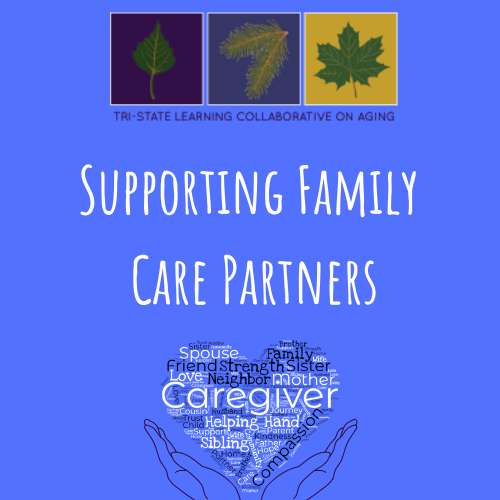 Supporting Family Care Partners
Thursday, November 18th, 2021, from 1:00 p.m. to 2:30 p.m.
It is estimated that one in five Americans are informal family care partners.  That's over 53 million people across the United States.  This number has grown 9.5 million just over the last five years (2015-2020). Here in Northern New England, we have some unique demographic challenges.  We will have fewer workers able to provide formal paid care to our loved ones, so we will all more likely be called upon to serve in this role at some point.  Particularly as we will see shortages of both paid and unpaid care partners in the coming decade, we need to develop the best strategies possible to support people in this role.
In honor of National Family Caregiver's Month, the TSLCA will host a conversation focused on supporting family care partners on November 18th.   In September, the Recognize, Assist, Include, Support & Engage – RAISE Act Family Care Caregiving Advisory Council released an initial report to Congress about their recommendations for federal, state, local and private sector actions to support family care partners.  We'll hear about these recommendations and plans for a national strategy to support family caregivers.  In addition, we'll be joined by organizations and advocates throughout northern New England to share regional programs and local resources.  We hope you'll join us for this important conversation so we can all work together to build better solutions and systems to support family care partners.
Presenters:
Greg Link, MA, Director of the Office of Supportive and Caregiver Services, Administration for Community Living/U.S. Administration on Aging
Beth O'Donnell, MPH, Research Project Manager, Coproduction Laboratory, The Dartmouth Institute for Health Policy & Clinical Practice
Erica Marks, Director of Volunteer Services, Age Well, Vermont
Melissa Grenier, LCSW, Regional Manager, State of NH, Alzheimer's Association
Representative Kristen Cloutier, Maine State Legislature, Family Caregiver Pilot Program
Alfred May, MPH, Public Health Liaison, Maine Center for Disease Control
Michelle Cloutier, Healthy Aging Manager, Maine DHHS Office of Aging and Disability Services