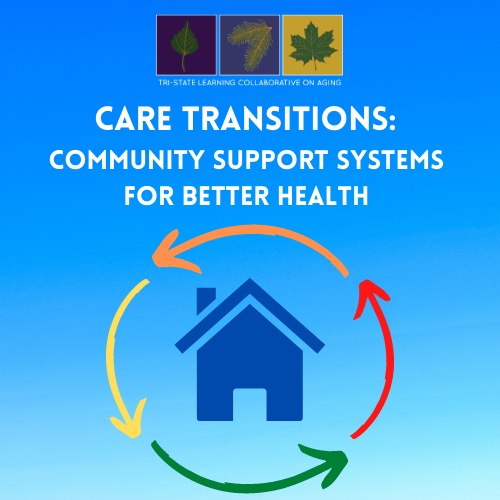 Care Transitions: Community Support Systems for Better Health
Thursday, January 25th, 2022, from 12:00 p.m. to 1:30 p.m.
On January 25th from 12:00 -1:30 PM we will be focusing on care transitions and highlighting community support systems that encourage healthy aging and connecting to local resources.   As we age in our communities or perhaps experience a medical event, our needs may change and it's vital to find connections to local available resources so that we can receive the needed care and services.  With the challenges we are facing related to the lack of care workers, this need to connect to community supports systems is even more vital. Improving care transitions can lead to improved health outcomes, better use of resources, and most importantly, for an individual as they navigate the changing needs.   Join us to talk learn about several programs across Northern New England offering innovative and successful care transition programs to support the changing needs of older adults in our communities.
Presenters:
Kristin Barnum, RN, Nurse Manager, Upper Valley Community Nursing Project, New Hampshire
Deanna Jones, Executive Director, Thompson Senior Center, Vermont
Maija Dyke, Business and Contract Manager, Healthy Living for ME and Kristin Overton, Chief Strategy Officer, Healthy Living for ME